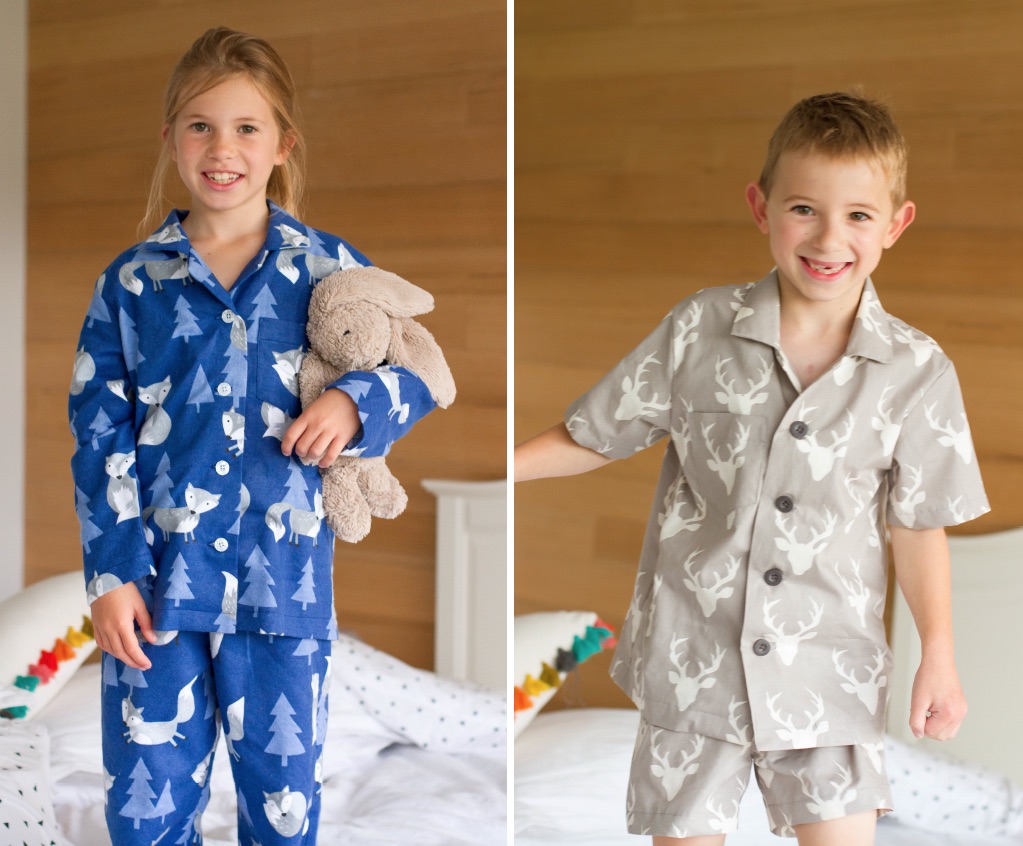 The perfect ending to busy days, the Catnap Pyjamas will keep your children snug at nighttime all year long.
With a classic style the Catnap Pyjama top includes button down front, collar and chest pocket.
The coordinating pants are a comfortable, straight leg with elasticised waistband.
Choose long sleeves and pants for Winter wear or make them short for Summer time – this is a pattern you will be using all year 'round!
With their timeless style and cosy feel, Catnap Pyjamas will make bedtime a breeze!
Happy Monday everyone – it's cold, wet and dreary around here and I've got a new pattern to share with you to brighten up any day!
The Catnap Pyjamas are the newest member of the Make It Perfect pattern collection. 
Catnap Pyjamas are based on a timeless, classic style that will never go out of fashion. These jammies have stood the test of time (I've been wearing them during every stage of my life and I'm sure they have been staples in your home too!) and it only seemed natural to design a pattern for you to custom-make them yourself! 
I initially started sewing these Pyjamas just before my six year old, Tommy was due to go to hospital for open-heart surgery. My coping mechanism to stress and uncertainty is to sew and I knew that he would love a few new pairs of PJs to take to hospital with him. Fast-forward a few months and Tommy is doing awesome, the PJs have been well-worn, and I'm ready to share my Catnap Pyjamas with the world!
When it comes to fabric choice for the Catnap Pyjamas, there is nothing more cosy than softly brushed flannel in your kid's favourite print. This is my preferred fabric choice for sewing Catnap Pyjamas – as soon as the nights cool down, I want to sew all things warm and snug! However, Catnap Pyjamas are equally just as awesome for Summer wear, sewn up in virtually any light-weight woven fabric…quilting cotton, lawn, voile, double gauze, rayon challis or even some silky smooth satin. Catnap Pyjamas are a great stash-buster to help make use of fabric that has been sitting in your sewing cupboard for too long!
Suitable for both boys and girls, and with long and short sleeve/pant options, this pattern is one that you will use time and time again. Even my 10-year old requested a few pairs of pants and shorts…which is a big deal because he doesn't "do pyjamas" but has decided these are cool enough to wear! 
The Catnap Pyjamas pattern is suitable for people of all sewing levels. The trickiest part to them is probably the collar, but I have a step-by-step tutorial to share with you in the next couple of days to make sure everyone has 100% sewing success! And trust me, when you've sewn the collar once, it will be a breeze next time.
I hope you are as excited about this new pattern as I am! I have plenty more versions to share with you over the next little while to help you conjure up your next Catnap Pyjamas creation!
In the meantime, you can see and read more about the Catnap Pyjamas in the store and the pattern will be on sale at 20% off until 10pm Thursday 12th May (AEST) – no coupon required!
(Wholesalers wishing to stock this pattern in their stores can contact my distributors here.)