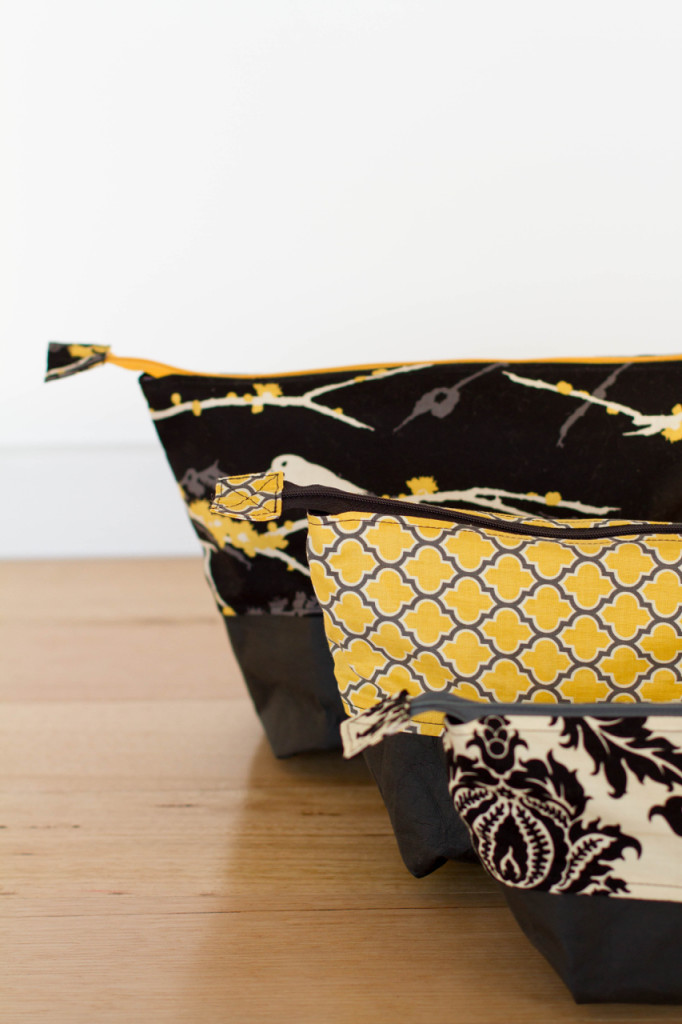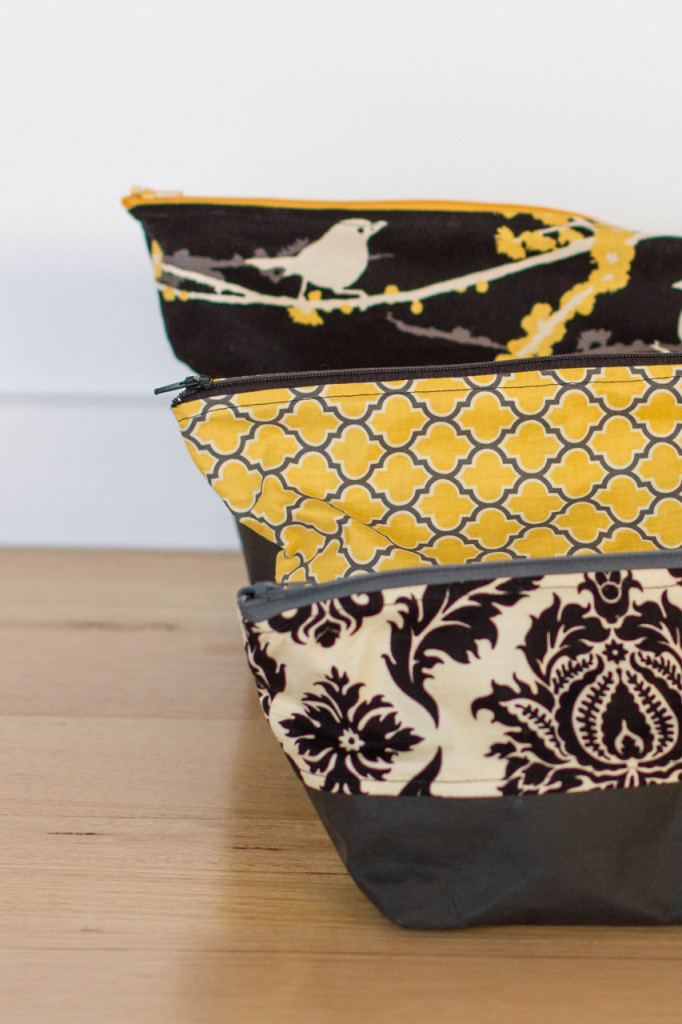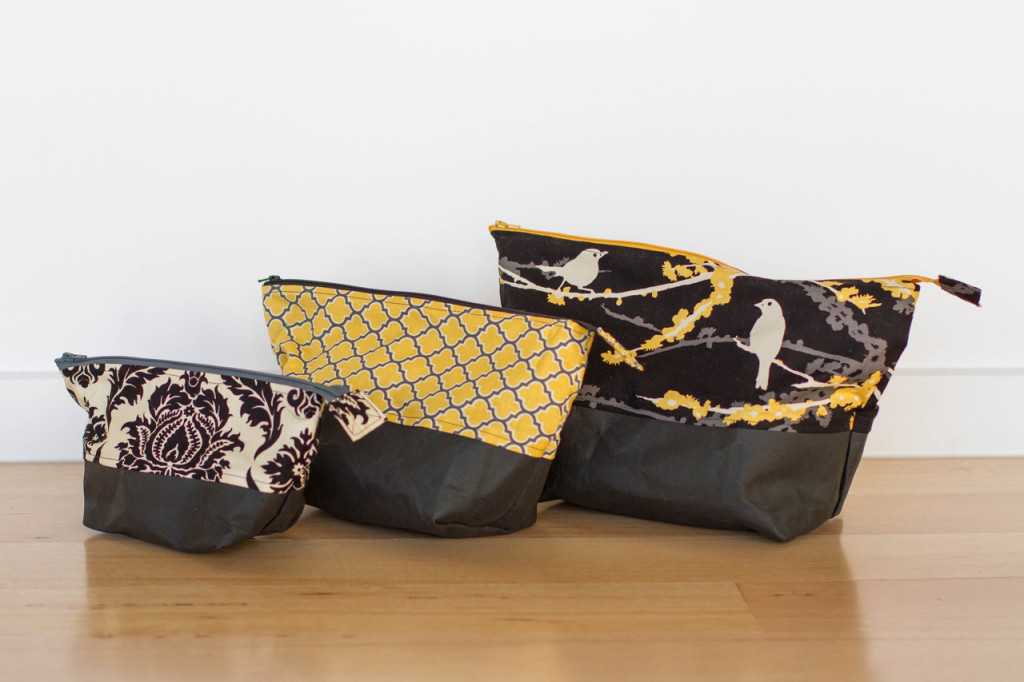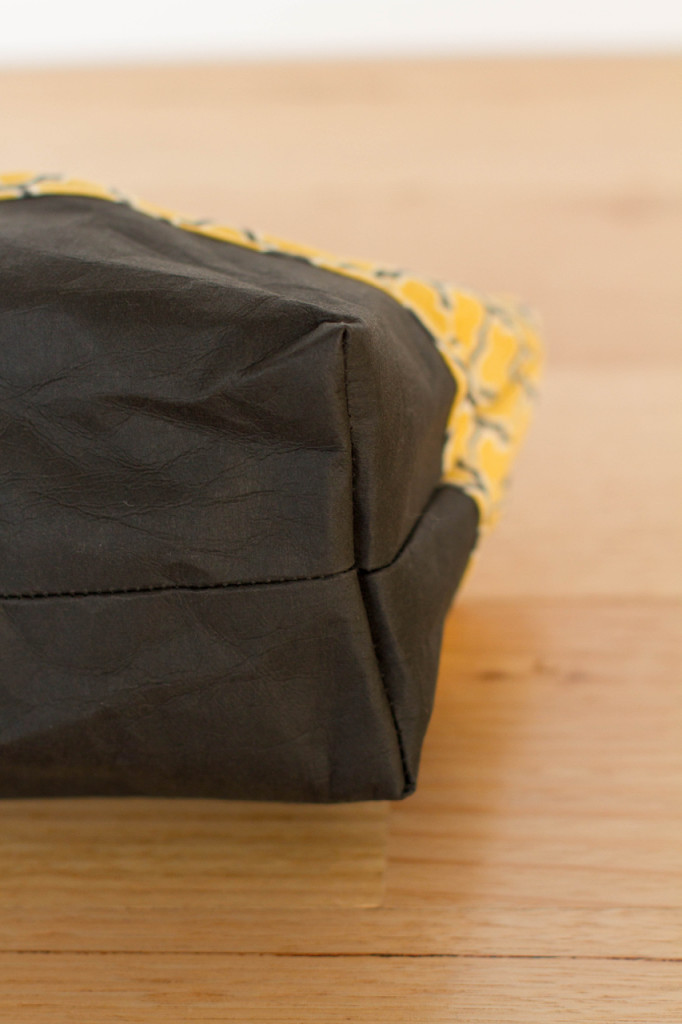 For Mother's Day earlier this year, I made my Mother-In-Law a set of Open-Wide Zippered Pouches (free tutorial by Anna of Noodlehead). I've made a heap of these pouches in the past, but have only photographed one other set. I love them for last-minute gifts – hence, the reason I rarely get a chance to take photos of them finished…I'm too busy wrapping them up and rushing out the door! 
My go-to base fabric for these pouches is denim – I've got a stash of old jeans in my sewing cupboard and they are great to cut up and give the base of the bags a sturdier finish. For this set of pouches though, I wanted to try out a new product called Kraft-tex. You can read more about it on the linked website, but basically it is a thick paper material that feels a little like leather and wears like fabric – yep, you can sew it and wash it and it gets softer and crumplier with age. I haven't used Kraft-tex enough to have a real opinion yet, but it seems pretty cool. It starts off really stiff (like cardboard) so I scrunched it up in my hands before sewing and it softened up a bit. It is supposed to get that crumpled look to it after awhile. Kraft-tex seems to be similar to the washable paper baskets/plant holders that are trending at the moment. I bought my rolls of Kraft-tex to make some of these, but my plans diverted to the zippered pouches first! I still have a few rolls left to play around with so will eventually make some baskets. I bought my rolls of Kraft-tex here, it wasn't available in Australia when I first purchased it but I think you should be able to find some in Australia now.
I paired the black Kraft-tex with some fabrics from Joel Dewberry's Aviary 2 range. The black, grey, mustard and cream colour palette is modern and sophisticated and made for an easy to put-together gift that I didn't even have to leave the house for!