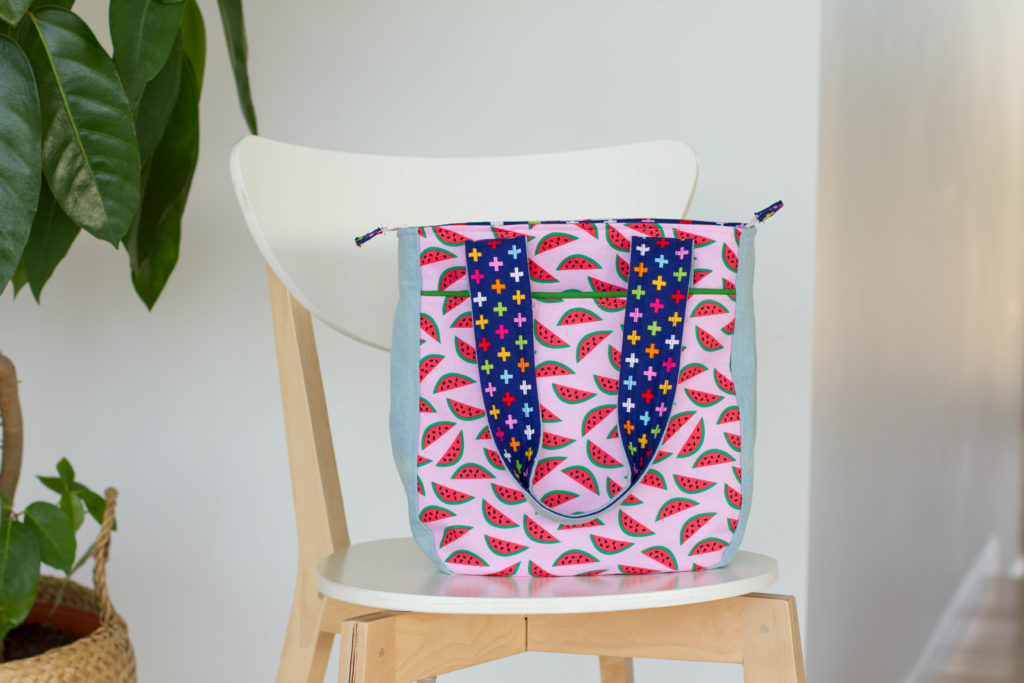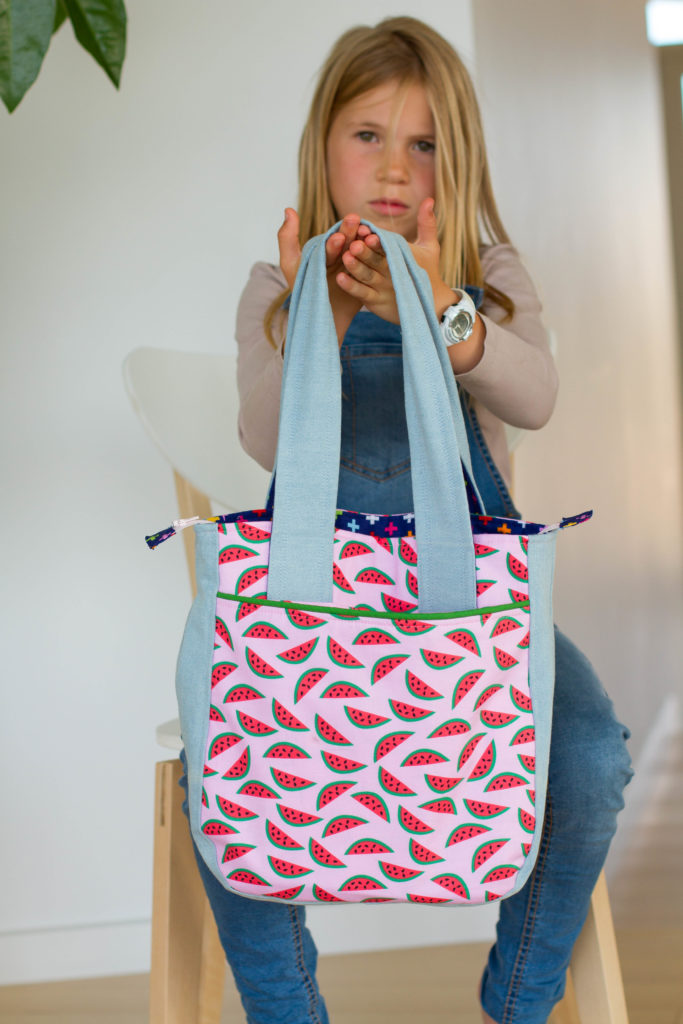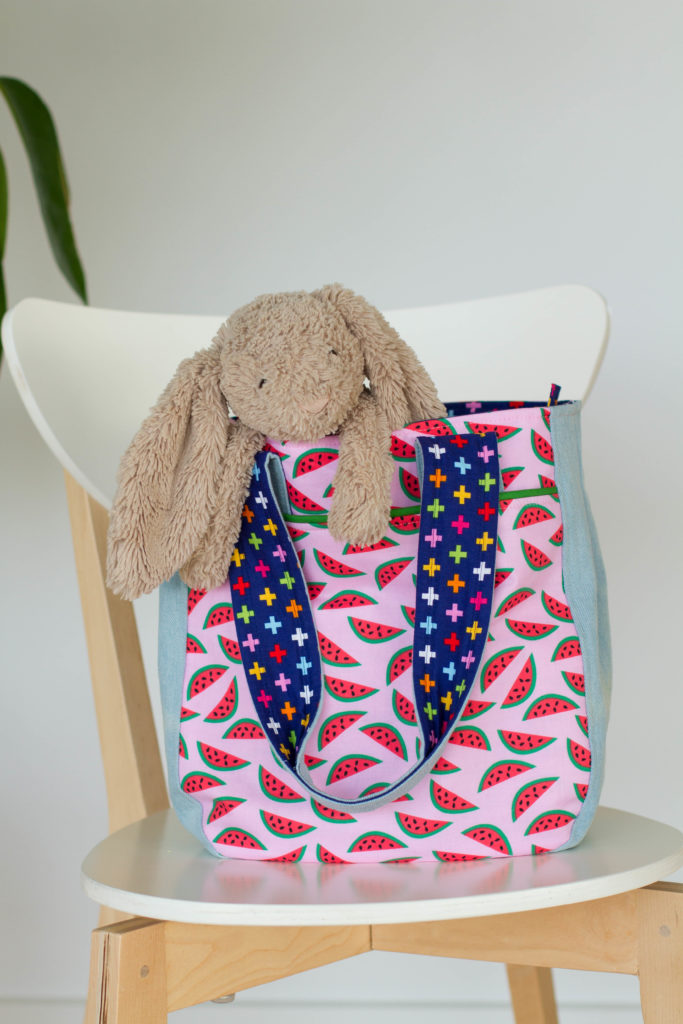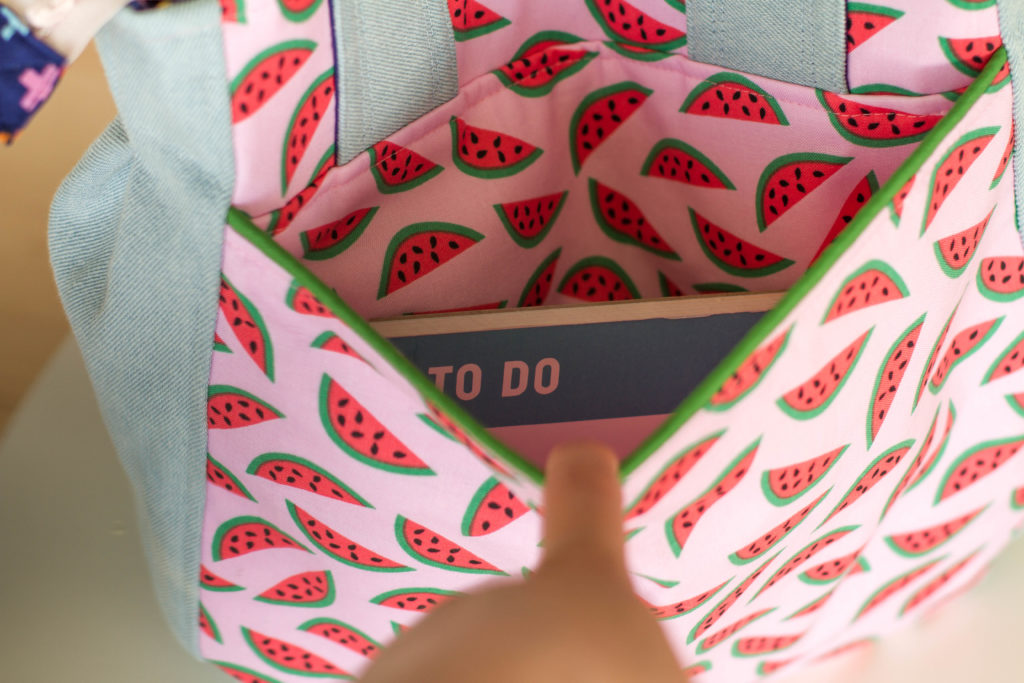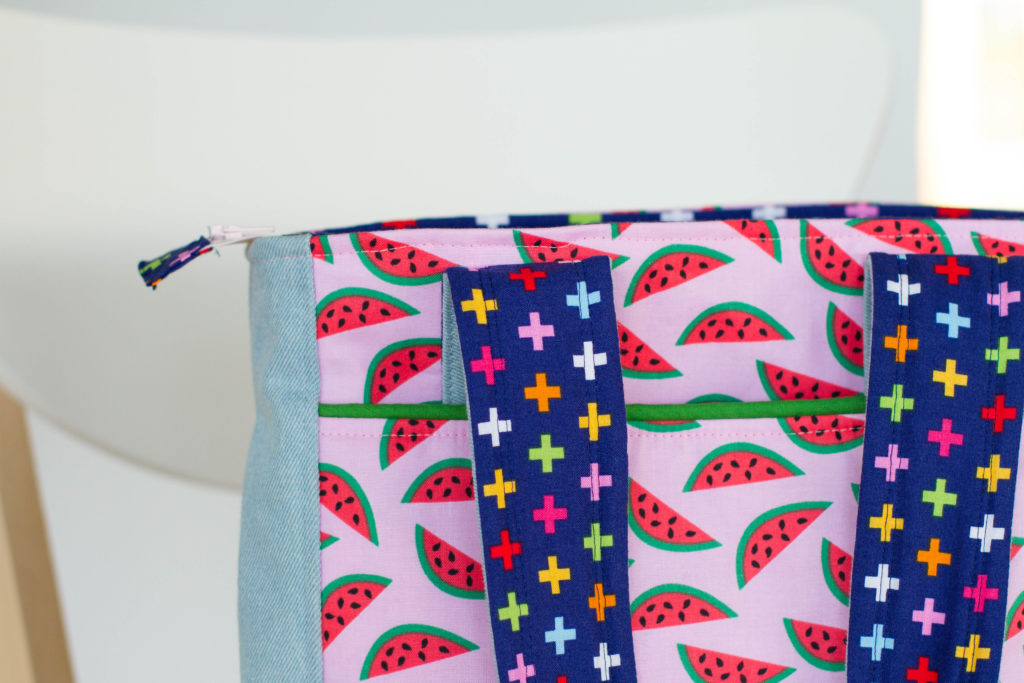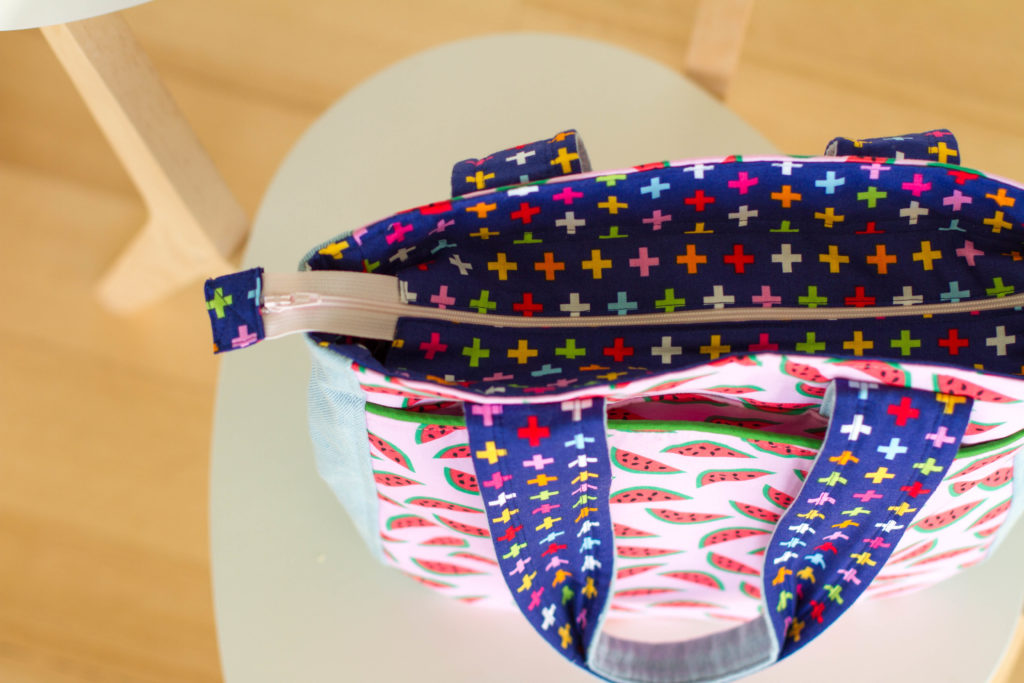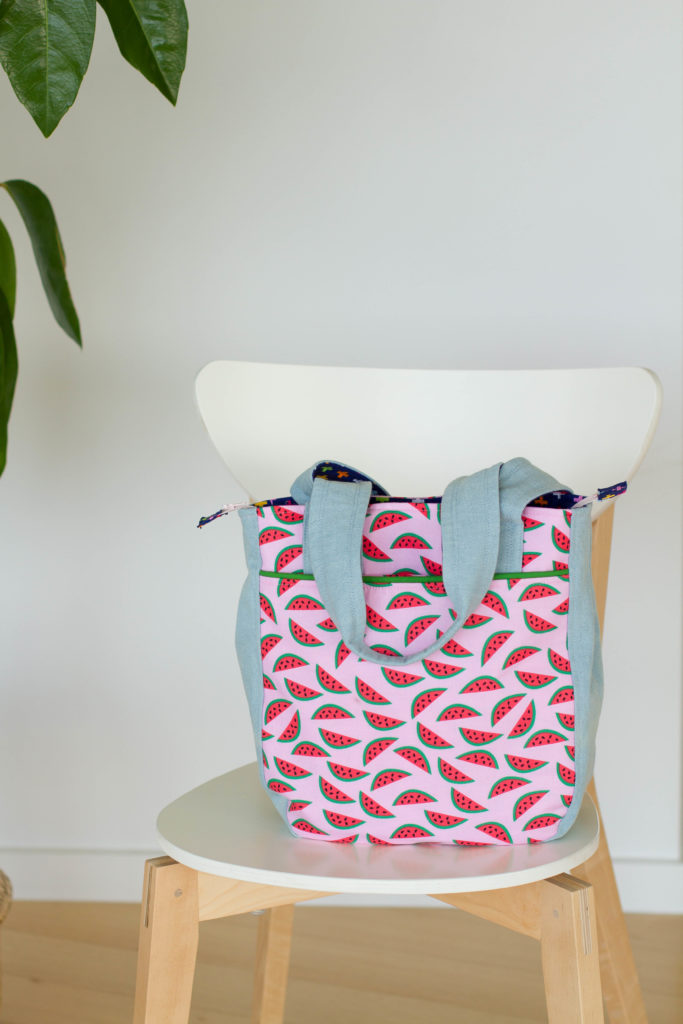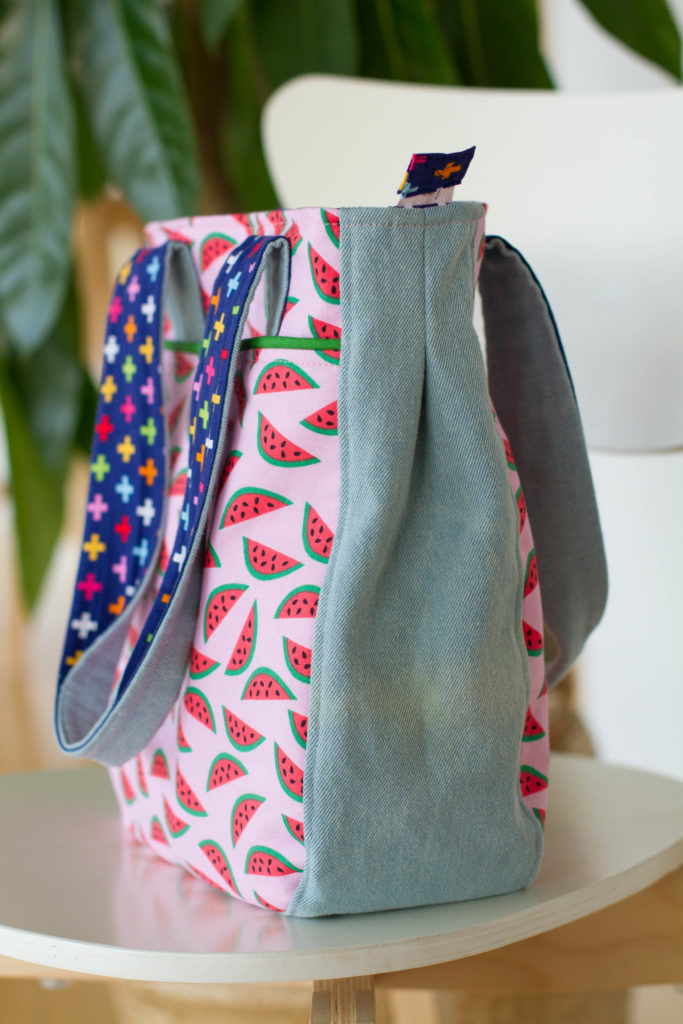 Lately when we are going places, Lil seems to be carrying around a little collection of things with her…drawing supplies, drink bottle, a book to read,etc. It is cute seeing her moving into a more independent phase and wanting to take care of herself a little more.
The problem is, that I was always left lugging around her belongings! Or they would end up being left in the car or scattered where ever we were visiting. Such a pain! Time for a grown-up bag? I think so!
I looked around for awhile but couldn't find a pattern that would be good for what she needed. Nothing too fancy, just a big compartment inside, some way to close the bag up and maybe an outside pocket or two. All of the patterns that I could see were too big or too complicated or not really suitable for an 8 year old. I was actually looking for something similar to the Super Tote bag by Noodlehead that I had sewn for myself previously. Then I realised that the only problem with the Super Tote was it's size and…duh! Shrink it!
So I did a bit of quick measuring and decided (well, crossed my fingers!) that if I printed the pattern with the scaling set to 80% (instead of 100%) it would turn out the perfect size – and it did! It was such a simple modification. The only part of the pattern I had to use my brain to work out were the handles (because there isn't a pattern template piece for these) but that wasn't too difficult.
By printing the bag at 80%, it ended up 12″ tall, 11″wide and 4 1/2″ deep. I cut the handles 27″ long (for future reference, or if you want to sew a mini version and don't want to use your brain!) These measurements would actually make a nice sized smaller Super Tote for an adult (probably with longer handles though) if you like the look of the bag but don't need it quite so big – because the original is a really big bag!
For Lil's bag, I kept the outside pocket – not sure if she really uses it but it might come in handy one day! And I omitted all of the interior pockets because I thought it would be more functional just having one big open space inside rather than pockets that might get in the way and probably wouldn't be used. When I was choosing fabric, I put a few different combos together for her and she made the final choice. I love the bright, cheery colours and prints she choose.
It was fun to sew a bag again, it has been awhile and I forget how much I enjoy the process and seeing it all come together. I think I need to sew a new bag for myself…mine are all getting a bit ratty, but which pattern to choose?!
SUPPLIES: Noodlehead, Super Tote pattern // Dear Stella, Bay Breeze, Watermelons in pink // Ann Kelle, Remix, Bright Crosses // Heavy weight denim